:::Why are you receiving this? You're friends with Cam Houser. This is where I share atypical stories of creativity, entrepreneurship, growth, and the ups and downs of Actionworks:::
🎟Welcome Jennie, Rafael, Angie, Simone, Richard, Gladys, J, and A 🎟
Greetings, rulebreakers!
Happy Labor Day to all of you wonderful people.
What I've been up to:
Taking Building a Second Brain, a gold-standard online course around personal knowledge management

Ran a session for 100 Honduran entrepreneurs to learn video (Youtube recording here)

Sent a proposal hoping a client would go for the "big vision" option. They are going with the tiny version of what I pitched. Can't win 'em all 🤷‍♂️
Animated video intros/bumpers
I hate generic youtube intro animations, also known as "bumpers" or "logo stings." I can't stand cheesy motion graphics that were made with some generic online animation generator.
So I spent yesterday upping my motion graphics game. I messed around on an intro for one of my ongoing youtube segments.
I'd say we're at about 70% completed. I have more experimentation and refinement ahead but I like where it's going.
Here's to learning in public…
How to start a hot sauce company
At the beginning of quarantine, I interviewed George Milton, the founder of Yellowbird Foods. This company makes the nectar of the gods below: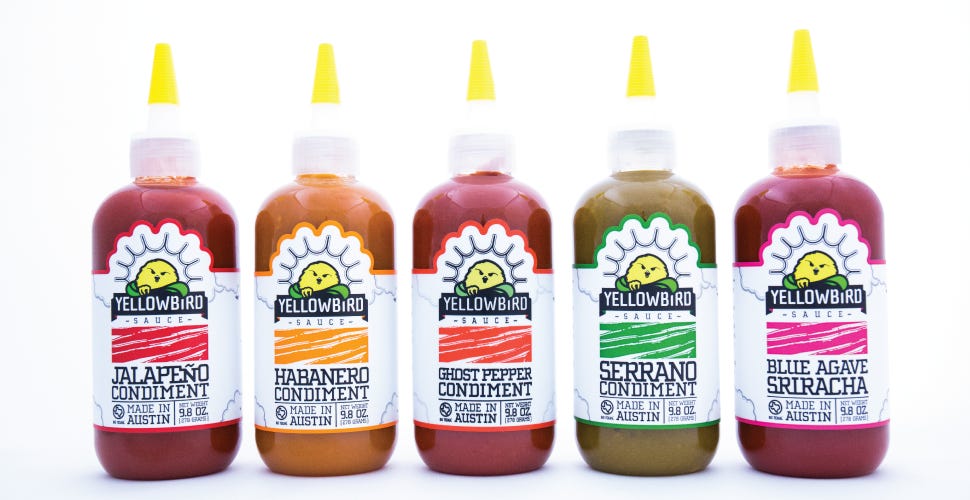 He shared some hilarious stories of life as a struggling musician and how he turned a hot sauce side project into nationwide distribution and profitability.
I edited that interview into a mini-course on how to start your own hot sauce company.
Promo video below. Free course is here: http://actionworks.co/hotsauce
Zoom and the origins of life
If you're curious about innovation, Steven Johnson's Where Good Ideas come From goes deep into stories and examples of how innovation arises.
Early in the book, he discusses life four billion years ago and why carbon-based life is the way of our world.
…when we look back to the original innovation engine on earth [life], we find two essential properties. First, a capacity to make new connections with as many other elements as possible. And, second, a "randomizing" environment that encourages collisions between all the elements in the system. On earth, the story of life's creativity begins with a liquid, high-density network: connection-hungry carbon atoms colliding with other elements in the primordial soup. The molecules formed mark the point at which chemistry and physics gave way to biology.
Two key ideas: making connections and a "randomizing element."
I almost spit out my coffee. This is breakout rooms in Zoom!
Zoom connects people together. In breakout rooms, the software forms groups of individuals at random. An unstructured, randomizing process increases the chances that serendipitous, idea-rich interactions will occur.
Zoom breakout rooms are a big deal and we are in early days.
Upcoming
I unpacked a virtual large-group ideation model in Nate Kadlac's Plan Your Next newsletter. I'll share that next week

Spencer Ingram's Cheat Sheet framework, one of the most original pieces of thinking I've ever seen on career advancement

Next edition of the DIY video workshop coming soon
See you in gallery view,
Cam
Web: actionworks.co
Twitter: @cahouser
Have a question? Ask it here
For professional grade virtual courses, workshops, email cam@actionworks.co
---
Just for fun: slow motion bird footage from my balcony to your inbox…